evogres next cutting blades
More and more, porcelain gres, for any professional that works in this field, such as marble craftsmen, fab shops or contractors, has become well-known and popular.
As these materials become more widespread, one common wish amongst clients has been faster cutting speeds in order to increase productivity without, however, compromising finishing quality and/or versatility of use.
In a market that is in constantly growing and changing, today Italdiamant has an answer for these requests: EvoGres NEXT, a true advancement in the field.
After months of development and the application of new, high-tech diamond solutions, we have finally created an extremely versatile product that can be used on all materials, with double the working speed in comparison to other products on the market.









* Comparison chart of our Standard and Plus lines.
EvoGres NEXT is not only this, but much, much more!
What's NEXT?
EvoGres NEXT is the universal solution!
cutting speed in other materials
The versatility of this new product is amazing. Never before was it possible to work with so many different materials (like marble, granite, quartz,quartzite, etc.) with the same tools and have such incredible results.
* The information provided is based on a long series of tests which were conducted under the best possible conditions on recent machinery.
Granite – 6 mt

70%

70%

Quartz – 10 mt

93%

93%

Marble – 3 mt

38%

38%

Quartzite – 2 mt

27%

27%
EvoGres NEXT is now available!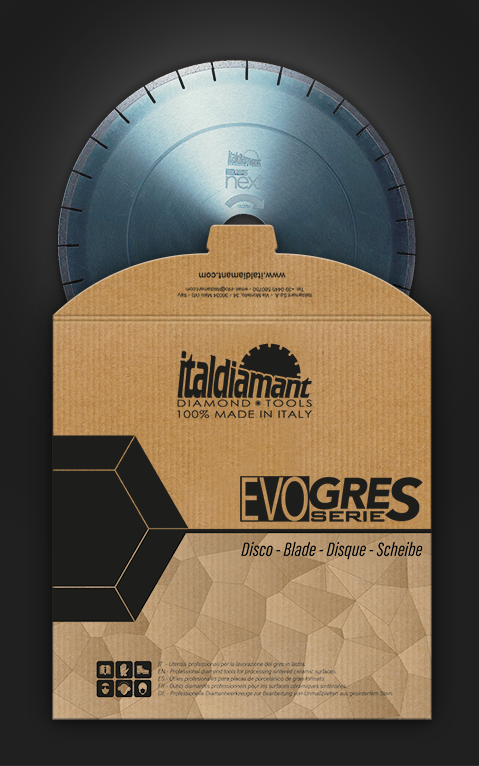 Ask one of our regional agents for an appointment and demonstration, or contact us directly by phone: +39 0445 580750
You can email us as well: next@italdiamant.com.

Our personnel will be happy to explain each and every detail of this new, innovative product.
evogres next
THE EVOLUTION
FOR THE INDUSTRY!
ARE YOU INTERESTED IN A DEMO WITH EVOGRES NEXT? WRITE TO US HERE!